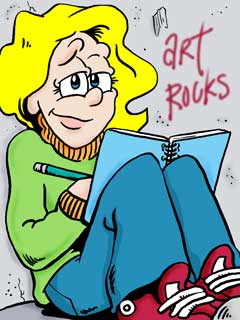 It's time to introduce a very talented, creative and all-around excellent artist to all of my Zingers: Meet the one and only Bridgett Spicer, creator of Squid Row Comics!
I've been a fan of her daily comic strip for years now, and it wouldn't be fair if I didn't share the day-to-day adventures of Randie the starving artist and her upbeat, adorable and paint-splattered universe with you all.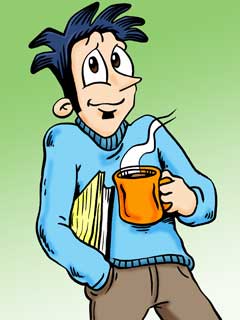 In a nutshell, our adventurous hero is doing her best to have fun as an artist, while working at The Artbox. (An art supply store with new management) Naturally, Squid Row has a large and colorful cast to keep Randie (and her readership) on her toes! These lovable goofballs includes Ryan, her best friend who works as a freelance writer, the yarn-bombing Art-o-rama Mamas Spill and Enid, and Twinkie, the horrible, (yet lovable and relatable to any cat owner) orange cat. If I had a nickel for each time that I identifyied with Randie, Ryan, or one of the lovable knuckleheads living in her beachside neck of the nation.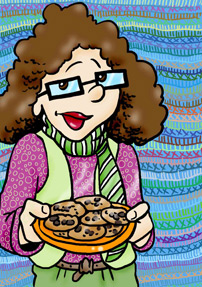 Randie's can-do attitude, enthusiasm for her art, and coffee/Popp'n Tarts/Vespid addictions make Squid Row the final stop on my morning ritual of visiting my favorite webcomics, as I want to start off my day on a totally positive note. Just steer clear of those shifty gnomes, and if you DO have to deal with the ceramic charlatans, toss 'em in a dumpster and replace them with dinosaurs. Everyone loves dinosaurs!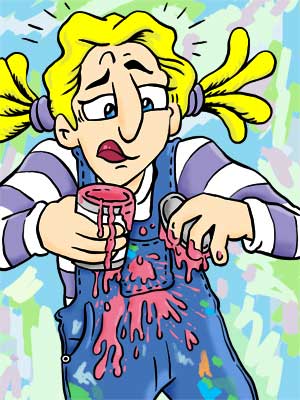 Do yourself a favor and add Brigett's Squid Row to your daily web surfing routine, and when you get hooked, start from the beginning and read your way back up to the present. Once you've done that, buy the book and unplug for a little while! "Squid Row: Welcome to the Neighborhood" collects all of the comic's 2011 antics, and you might save a few cents on your electric bill by catching up with the dead tree edition. It's a win-win!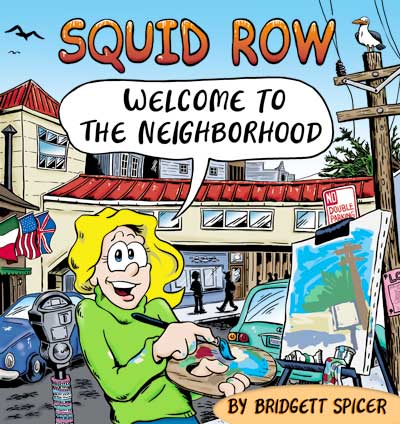 We're just getting started, so crank the creativity up to 11 and pass me a gluten-free maple syrup doughnut, 'cause you haven't heard the last of Squid Row from my humble purple-splattered outpost. Keep a sharp eye for Randie and crew around Zinger Stuff's HQ!
One more thing before I slink back under my rock, me and Mr. X are working our claws to the bone on Zinger Stuff's next big step, so if there is another big lull in the updates, blame progress! That, or those pesky pteranodons are stealing all of my bandwidth again…
Stay tuned, Zingers!